Aksesoris Gaming, All Brands, Asus, Mousepad
Mousepad Asus ROG Scabbard NC02 Gaming Mouse Pad [90MP00S0-B0UA00]

Spesifikasi :
Measures at 35.4″ x 15.7″ with a thickness of 0.08″
Splash-proof, stain-resistant Cordura Lite fabric with anti-fray stitched edges for prolonged lifespan
Textile-weave surface optimized for both laser and optical gaming mice
Rubberized non-slip ROG red base
Glow in the dark "ROG Scabbard" lettering
Mousepad Asus ROG Scabbard NC02 Gaming Mouse Pad [90MP00S0-B0UA00]
Asus ROG Scabbard NC02 menetapkan panggung untuk pertarungan epik dan kemenangan Anda yang paling menakjubkan. Terbuat dari kain Cordura® Lite tahan lama, tahan percikan, dan tahan noda, alas mouse gaming yang diperluas ini menawarkan ruang yang luas untuk mouse dan peralatan gaming Anda, menjadikannya tempat pertempuran game yang ideal. Menampilkan huruf glow-in-the-dark, tepi dijahit anti-fray, dan basis karet 'ROG red 'yang tidak selip, ROG Scabbard adalah sekutu gim terbaik Anda.
ROG Scabbard melindungi dari minuman yang tidak sengaja terjatuh sementara pada saat yang sama mudah untuk dirawat. Terbuat dari kain Cordura® Lite tahan lama, tahan percikan, dan tahan noda, bahan pilihan untuk merek atletik militer dan luar ruang top internasional, ia menyediakan permukaan pelacakan yang konsisten dan responsif, dan tetap dalam kondisi murni – apa pun yang dilemparkan oleh game Anda itu
Permukaan tenun tekstil dirancang untuk menghasilkan permukaan yang halus dengan gesekan yang memadai, bagus untuk sensor optik dan laser. Dan tebal 2mm, permukaan yang agak empuk membawa tingkat kenyamanan game yang ditambahkan.
Area permukaan yang luas ini, berukuran 900 x 400 x 2mm, mencakup semua perlengkapan gim dan kebutuhan aksesori Anda, termasuk laptop, keyboard, dan mouse. Dalam panasnya pertempuran, ini melindungi meja Anda dari tumpahan minuman dan goresan.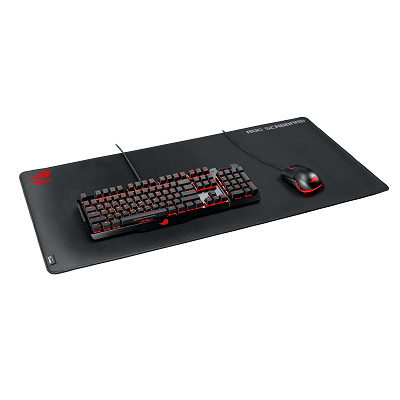 Desain bersih ROG Scabbard berpadu sempurna dengan pengaturan apa pun. Saat lampu padam dan saatnya bermain, huruf ROG Scabbard yang bersinar dalam gelap menambah estetika keren ke area gim Anda.
Dengan permukaan kain Cordura® Lite yang tahan lama, tepi yang dijahit anti-fray dan dasar karet 'ROG merah' yang tidak tergelincir yang mencengkeram permukaan dengan kuat, ROG Scabbard adalah alas mouse gaming tahan lama yang dirancang untuk bertahan dari pertempuran terberat – dan lebih banyak.
Belanja di Softcom membuat Anda lebih Mudah, Aman & Terpercaya
Untuk Spesifikasi Lebih detail lagi dapat di lihat dari website Resmi Asus
Berikut Link untuk melihat Varian Produk lainnya.
———————————————————————————————————————————–
Kami adalah Authorized Dealer Untuk Produk-Produk :
Acer, Asus, Hp, Lenovo, Dell, MSI, Brother, Epson, Canon
Semua Barang-barang kami jual BARU dan Bergaransi RESMI NASIONAL di seluruh Indonesia, sesuai dengan ketentuan yang tertera di kartu garansi dan buku panduan masing-masing produk.
~ selamat berbelanja !!!. ~~~~~~~~~~~~~~~~
| | |
| --- | --- |
| Berat | 1500 g |
| ALK | 0, 0, 0, 0, 0, 0, 0, 0 |
| Brands | |
| Dimensions | 35.4 x 15.7 x 0.08 in 900 x 400 x 2 mm |